Walt Disney 25th Marathon Weekend Recap! Takeaways, lessons, and advice.
Last month, I participated in the 25th Anniversary Marathon weekend at Walt Disney World! This was my 9th RunDisney event - so I've learned a few things!
This race was part of the RunDisney series, which combine endurance running events with Disney for a magical combination! RunDisney hosts several races throughout the year at Disney World in Orlando FL, Disneyland Paris, and previously, Disneyland in Anaheim California. The Anaheim races are discontinued until further notice due to construction and logistical difficulties with the city. Which is a bummer because I would love to run there one day as well!!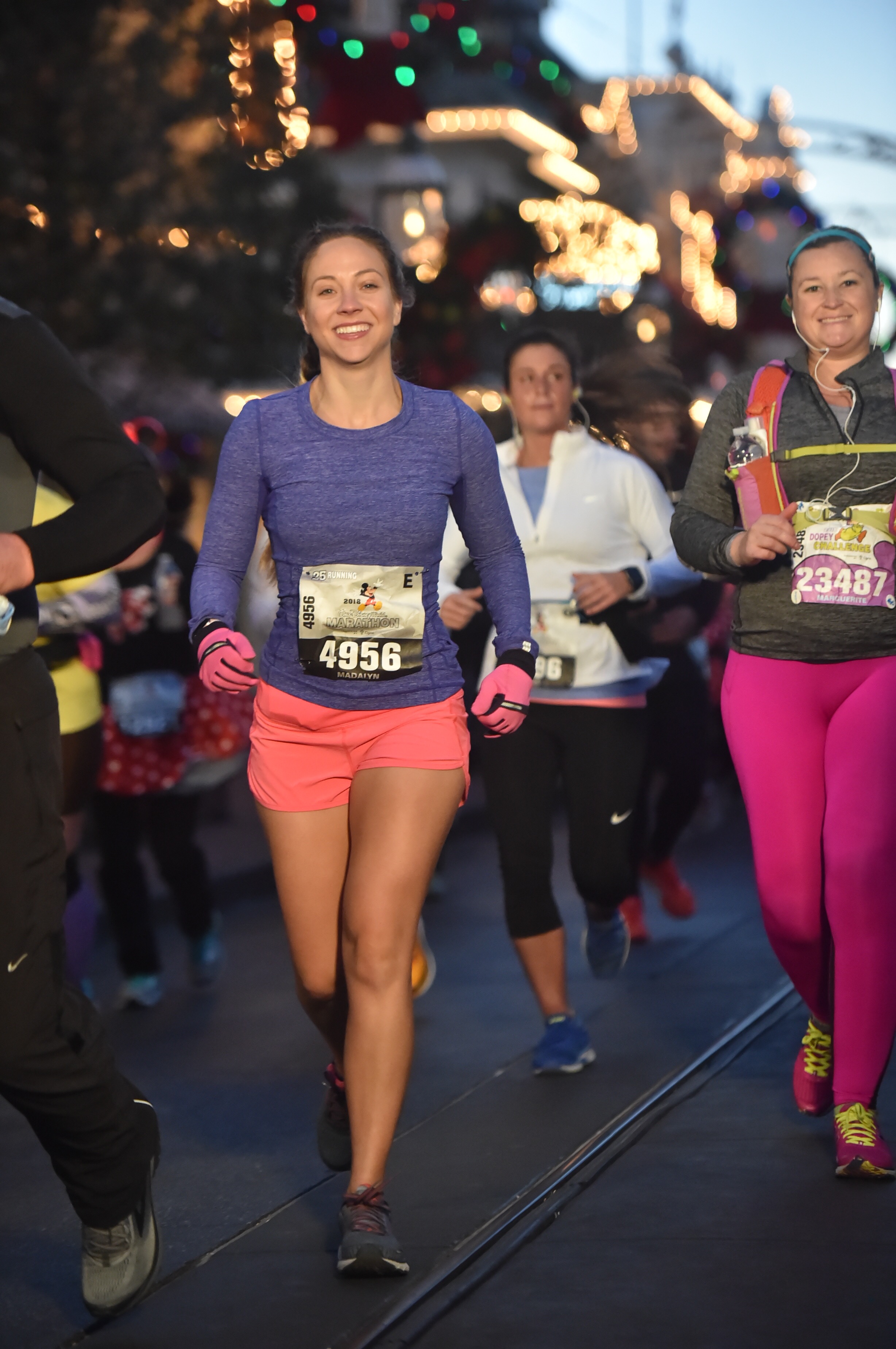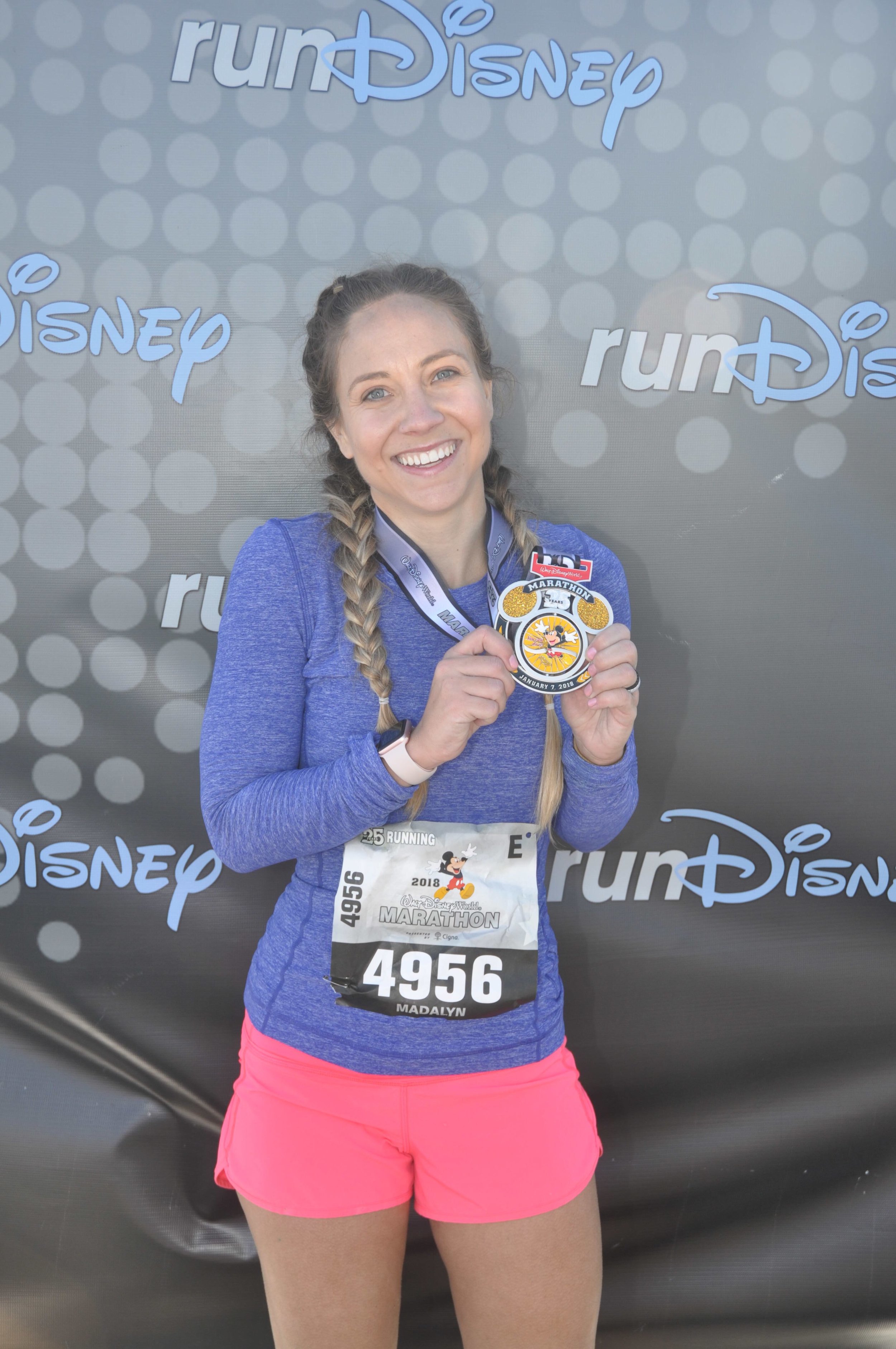 The marathon weekend is one of the most popular events in the year, because they have a slew of different races you can register for, a 5K, 10K, Half Marathon (13.1 miles), and Full Marathon (26.2 miles). This is the only weekend that includes a full marathon. Other race weekends include Wine and Dine, Star Wars, and Princess Half. I think one of the most appealing aspects to me in the WDW Marathon Weekend is that there really is something for everyone, including crazy challenges where people complete all 4 of those distances over the course of 4 days! It's the " Dopey Challenge" - for more reasons than one :) You will see all types of athletes, from the casual walkers to the elite ultrarunners. But everyone loves Disney, which is so cool.
In 2013, I completed my first marathon at the 20th Anniversary weekend, so I decided to come out of my 5 year marathon hiatus and run again in 2018! I think the reason it took me so long to do another marathon is that I did not train to the extent that I wanted to. I was still in college, and working a busy job... I had a tough schedule! After the race I had no interest in running, my legs were overworked and I was very sore for more than a month. I couldn't imagine doing it again. Of course, finishing was still the best moment of my life and I am forever proud of myself!
Training: If you don't read this whole post but you want to run a marathon, just TRAIN and you can thank me later. This go around, I REALLY committed to training. I found a great program through the fitness app Aaptiv, with running coach Meg Tackas. She is fantastic! Follow her on Insta because she is literally goals and inspiration and motivating and COOL. When you don't want to workout one look at her Insta Story and you feel guilty... trust me. I can't recommend the app Aaptiv enough. I'll do a more in-depth post on that soon :) Along with my beats wireless headphones, I made it through her difficult marathon sessions each week and am a better runner for it!
Logistics/Planning: In 2013, I stayed at my college apt in Orlando, since I was a local so we didn't have a hotel or stay near property. This time, we had reservations at the Port Orleans, Riverside Resort. I adore this hotel! It's so charming and romantic. It's also very quiet, and ideally located near Epcot, where the race starts/ends and Disney Springs. Walking around the property by the river is so relaxing, it truly does feel like you're in a bayou.
Expo: We arrived a day early (Saturday) and went to the expo to get my bib and packet pickup. Only staying for two nights is tough, but the reason I wanted to stay the day after my race was to take advantage of the hot tub and swimming pools for post-race relaxation, which was a great idea! So if you are planning on doing only 2 nights, I would do the night before your race and the night after because it was so delightful to soak in the hot tub without having to check-out and head home or to the airport. The expo this year was a little disappointing, but that could be because I attended the last day. There was not a large crowd but the merchandise didn't overwhelm me. That's ok, I was super nervous! :)
Pre-Race Dinner: We had dinner at Narcoossee's, a seafood/waterfront restaurant at the Grand Floridian. I had an amazing shrimp pasta, and not even kidding probably the best I've ever had. I'm not just saying that either!! The shrimp was tender and the sauce and pasta was perfection. On other night I would have devoured it, but my pre-race jitters were strong so I couldn't finish it all. My husband and his mom both had the Surf and Turf and it was divine. I encourage you to rethink the old stigma of Disney theme park food and try Narcoossees. Our drinks, service, and even our appetizers were 10/10.
chEAR Squad: One tiny add-in about the chEAR squad because I couldn't find much about this! It's an additional package your spectators can pre-purchase which gets them a cowbell, drawstring backpack, and stadium blanket as well as access to chEAR Squad areas only, with tables, reserved seating and viewing spots. Also included is a reserved bathroom (port a potty) and hot/cold drink service. It was a little pricey, around $80 but my husband and his mom were both so happy to have a great place to hang out and they even had a sign-making station. This year, there were two options, Gold and Platinum, the only difference is the Platinum had the temperature controlled tents, which would have been nice for this year considering how cold it was! We went with Gold for my husband and his mom, they loved it. I'd recommend just because you never know how the weather is going to play out, and you dont want your spectators cranky :)
The Race: Disney does a lackluster job telling us the expected time for corrals to start. It seems their only focus is the first 3-2-1 Go but after that, you are left to guess. All race guides tell you get to your coral EARLY, be in your coral at least an hour before the race begins! But for some in Corral H, I G etc, the race may "start" at 5:30 but your corral won't be taking off for at least another hour. Back in the day there was a legit sheet with times for each corral, but they don't do that anymore. This year we had waves IN EACH corral. So, I was corral E but I still had to wait for my "wave" which I think was wave 3? I couldn't hear! That was tough, but if you know that going in, it might help for you to prepare and maybe save yourself a precious 45 mins of sleep and hopefully less parking drama. The traffic to get to the starting lot is ridiculous, we sat in a lot of traffic due to buses that should not have been on the road. Annoying, but part of the story!
Once the race started, I was pumped and all the worries faded! In 2013, I had the privilege of being in an early corral due to a great PR time I submitted, this time I was further back since I had a slower proof of time. My wave had a lot of walkers, and my instinct is always to pass and get around them, but I didn't... *too much*. Last race I definitely completed the first half of the race too fast bobbing and weaving around people and burned out, which I was adamant on not doing this time. My goal was to finish strong! Can't recommend that enough, save as much of your energy for the second half of the race. There were a LOT of bodies in this race and the course was narrow for many parts, with people on top of one another basically. Truly that is my only complaint, if you can call it that. I saw many characters, but I didn't stop to take pics because of the lines:)
Takeaways and considerations if you are thinking about running a marathon: For me, racing is admiring and enjoying everyone around me, from their costumes to the obstacles they have overcome. There is always someone out there who has had more struggles than you and yet they are running right beside you. True inspiration. Races have such a communal spirit, and if you have run one, you know what I'm talking about! The spectators and crowds are always so great and positive. At Disney, even though many miles include backlots, or highway, there are cast members and entertainment along they way that really push you. I think that part of the race is really what you make it! Maintaining a positive attitude, like OMG I'm Running AT DISNEY - is going to propel you through. For real! 26.2 is not easy, it's horrific at times and thrilling at others - and its mostly a mental game you play with yourself. For me, I am so happy to be a two-time marathon finisher, and this time around, I seriously felt great only a few days later and am ready for my next race, something I couldn't say last time. :)
Finishing the race is SO WORTH IT! You will be so proud, and it's something that no one can take away from you, you are a champion! And the hot tub after is a must-do. ;)
I really hope that this post was helpful, feel free to message me if you have any questions on training or Run Disney!